The area is called the Lakes Region for good reason.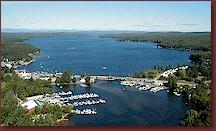 Large freshwater lakes and ponds dominate the landscape. Located in the foothills of the White Mountains, the delightful geography produces magnificent scenic vistas with a huge variety of 'all season' recreation options. For information on local businesses and events, the Bridgton area chamber of commerce is a good source of information on local events.





The Rangeley Lakes Region - A magnificent area of huge lakes and mountains to explore in any season. Summer is short above the notch with fall colors blazing by late August!

Caribou-Speckled Mountain Wilderness - Another wild area well worth your time and exploration. At 12,000 acres it is the largest wilderness reserve in Maine.

Saddleback Mountain - Called the big affordable mountain, a recent new trail expansion makes Saddleback an even greater ski destination.

Sugarloaf Mountain - Another excellent premier ski and golf mountain resort that won't disappoint.