The Swift Valley View Property is located in Maine's 'up and coming' premier recreational destination: the Androscoggin Valley -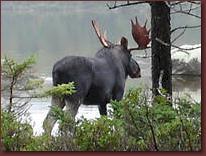 gateway to Maine's Western Mountains. The region offers some of the finest, and most varied, recreational opportunities in the Northeast. The terrain is characterized by mountains and valleys interlaced with rivers, streams, and lakes. The region is famous for excellent skiing, golfing, snowmobiling, hiking, fishing, hunting, boating, ATV touring, mountain biking, and wildlife viewing. There are hundreds of destinations waiting for you to discover them. Here are some of the area's highlights:

The Swift River - A fast running river across the road that is great for fishing or a quick cool down on a hot summer day. Just down the road, take the Swift River Walking trail in Rumford for a picnic and/or walk along the river.

Black Mountain of Maine - a fabulous, family friendly, and affordable area that offers skiing, snowboarding, and tubing. This winter resort is quietly frequented by many Bethel area locals.

Snowmobiling - ITS 82 and the trail systems of the Rumford Polar Bears and Mexico Trailblazers form a network that surrounds the property with over 100 miles of trail! Go to Black Mountain for an end of day snack, or drive up to the Rangeley Lakes for a day trip.

The Androscoggin River - The major river in the region, it is a favorite boating and fishing destination with 2 boat launches nearby.

ATV Clubs - in the area prove many opportunities for riding' in the woods and making new friends.

The Ellis River - A classic meandering river in nearby Andover with the state's smallest covered bridge provides an idyllic canoeing and fishing destination as long as you stay off Ellis Falls.

Oakdale Golf course - A very nice 9 hole golf course dubbed a "hidden gem" by the Lewiston Daily Sun - accessible, affordable, and is just minutes away.

Ellis Pond - Also called Roxbury Pond, the pond is actually a picturesque lake 1.5 by 2.5 miles rimmed by Western Maine Mountains with a public boat launch and beach. The lake is a favorite vacation destination for the locals who like to keep it quiet ( - Shhh....)

Rumford and Mexico - Rumford Falls, historic buildings, bridges, local shopping and other attractions make these towns a great convenience.

Other Favorites - Here's a list of other regional favorites and walking trails that you may find interesting.

Local Eats - The local Rumford - Mexico area has some great eateries with wonderful hospitality and the unbeatable values. There are some nice local options for 'high end dining', and of course, there is always the nearby Bethel area with plenty of options.